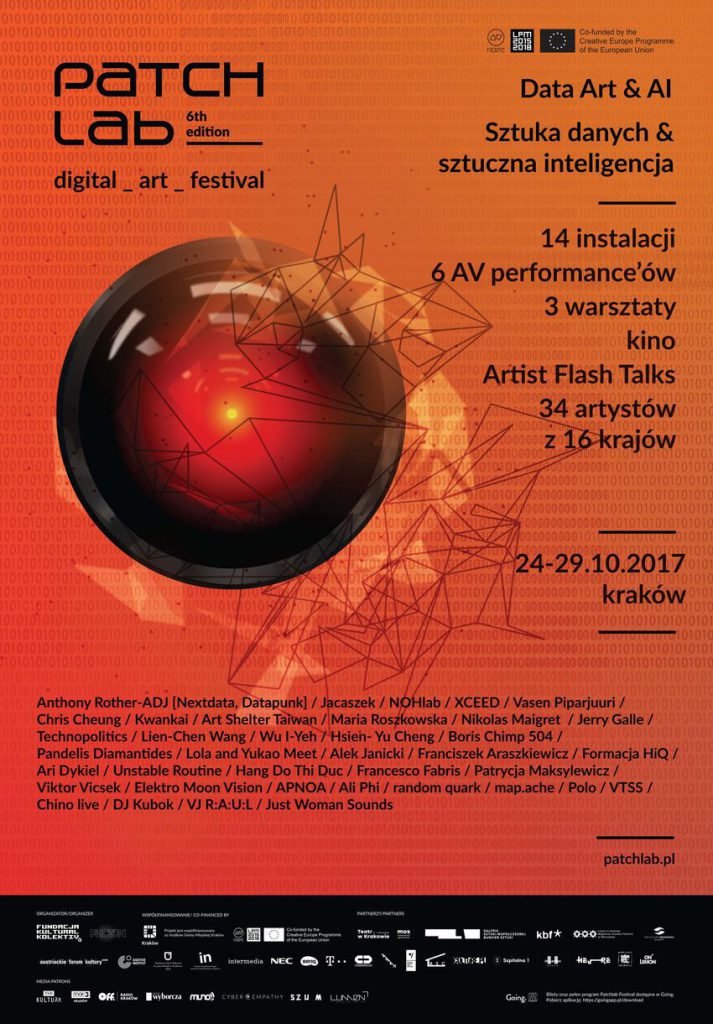 Data art and artificial intelligence was the leading motif of the 6th edition of the Patchlab festival. Works by 34 artists from Poland, Europe and Asia based on unusual material have been presented – powerful data resources that have an increasing impact on society and our lives.
During the exhibition in the Malopolska Garden of Arts and Contemporary Art Gallery Bunkier Sztuki and Czeczotka Palace (in cooperation with Conrad Festival) we presented 14 installations of electronic media artists from Poland, Germany, Austria, Hungary, France, Turkey, Greece, Cyprus, Italy, Belgium, Denmark, Portugal, Iran, Hong Kong, Japan and Taiwan. There was, among others the Reading Plan robotic installation by Lien-Cheng Wang, which deals with the state control of the contents read and learned by students in Taiwan, the XCEED group from Hong Kong – RadianceScape, installation and performance visualising radioactive data in Fukushima and Chernobyl and Predictive Art Bot by Nicolas Maigret and Maria Roszkowska, an artificial intelligence predicting trends in art.
Especially for the Patchlab festival, the audiovisual project was prepared by Michał Jacaszek together with the Turkish art studio NOHlab, mentioned by Ars Electronica in the category of computer animation.
Among the audiovisual performances presented at the festival, you could see Chris Cheung from Hong Kong, Boris Chimp 504 from Portugal, and Cypriot artist Microseq presented at the TodaysArt Festival 2017 in Amsterdam.
The culmination of the festival was the night with Anthony Rother from the main role – a classic of the techno music genre. It was a unique performance, based only on his own productions, which he does not appear commercially.
The festival was accompanied by projections, meetings and workshops, including the Viennese Technopolitics group, who talked about their experiences in working on the visualisation of a huge amount of data in an unusual project that was presented as part of the exhibition.