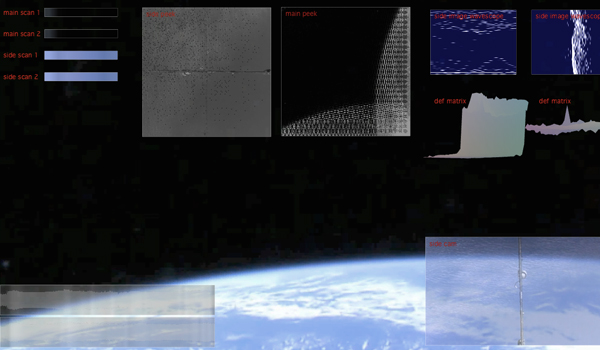 Silver Moon, Blue Planet, Blue Note
Silver Moon, Blue Planet, Blue Note is a work existing in dual form: as a performance and interactive installation. As an interactive installation it's a specific instrument, enabling the use of data from video cameras installed in the ISS (International Space Station) as a source for converting to sound. In other words, the audience can control how the data collected from the ISS are converted into the structure of sounds and music.Silver Moon, Blue Planet, Blue Note is based on live video and data feeds from ISS and other satellite sources. Captured data are processed in real time to an audio-visual environment. The premiere presentation of the work (as a performance) took place at the opening of the exhibition "On the Silver Globe": Media Installations from the International Collection of the WRO Biennale at Kunsthal Aarhus.The work is – taking into account the technology and some ideas – a descendant of the Ping Melody: a series of my earlier works based on scanning and sonification of the dataflow in communication networks (mostly Internet) and interaction with a musician playing an acoustic instrument. But, unlike his ancestor, Silver Moon, Blue Planet, Blue Note is a farewell to the area of info-space and back into the physical space perceived from modern perspective and scale.Why do I say about returning to the physical space? This performance is also inspired by the correlation between an increase in interest (from the perspective of digital arts) in info-space created by information networks and abandoning dreams of outer – deep – space. This failure of imagination now seems to be transformed into another return – or at least a thought about returning – to the stars.
---
Little Boxes
Bego Santiago [ES/DE], Pavel Karafiat [CZ], Andrej Bolesvasky [CZ]
An interactive installation bringing to mind the suburban predicament of pre-packaged people who are all the same and never step outside of their bubbles. Different people are projected onto boxes as visualized by artist Bego M. Santiago, and even though they are all individuals who can move around on their own, they behave with a united mindset, always following the crowd. An added element is the interaction between the artwork and the viewer. When someone approaches the little boxes, the projected people stare at timidly, and as the viewer walks past, the people start screaming and running away, deathly afraid of anything outside their comfort zones.
---
Digital Enclosure
Daan Kars [NL], Daan von Hassel [NL]
Today we live in a world of Big Data. Tracking our behavior and actions takes place on a daily basis. Usually, we don't realize that data (digital footprints) left behind on digital devices are being collected. In the interactive installation 'Digital Enclosure' the authors translate this virtual process into a physical experience of an active system, which locates human presence and interlocks it into its data base.
---
Second Stroke
Jakub Hader [PL], Patrycja Ochała [PL],  Radosław Rudnicki [PL]
An interactive installation based on mapping technique, creating the possibility of manipulating the picture's sounds and texture by simply moving your hands.
---
Archetypture Magical Reality
Andrzej Głowacki [PL], Marika Ika Wato [PL]
The Archetypture of Magical Reality is the third part of an extraordinary Archetypture Book Series* by Andy Glowacki. It is a creative book app composed of words, images, and animations that – in addition to some ambitious poetic prose – offer you a great reading adventure that can be controlled by "rolling the dice". Navigate through the book and engage yourself in the interplay between words, images, and movies. Start reading anew to immerse yourself in the randomized content that will bring you toward new visual configurations as you roll the dice. Enter the next phase of the challenge by simply shaking your mobile device. Add bookmarks to your favorite content to create a personal version of the book.
---
Black Garden – interactive installation site-specific
Aleksander Janicki [PL] & Maria Anna Janicka[PL] / Sound Face
This installation is a kind of instrument. An essential element of the composition is the artificial black ivy – realistic imitation of plants. Creeper contrasts with the minimalist interior space of the Pavilion Wyspiańskiego. The appearance of the viewer activates the installation. Movement viewer-participant generates a random set of specially designed sound. The composition is emitted from eight speakers. Specially written program / in Max MSP / randomly selects another sound from the set of 120 samples (samples and sound previously recorded by the composer). Sounds emitted in the installation are both real nature and composed /digital music/, resembling the sounds of cicadas, birds, animals but which quotes the wording of the city or industrial space. Some of them are the result of field work / sounds of the city, industrial, natural / but they are subjected to electronic processing. Other sounds are micro-electronic music compositions. The lottery software option can also be "no sound" – silence. The effect of moving the viewer is thus a musical composition with a unique "melodic line". Programming – Piotr Madej